Why are forearm tattoos popular? For many, the forearm is the first place to get a tattoo on because the wearer himself can admire the beauty of his forearm tattoo. People get confused to pick up the right forearm tattoo for themselves. They get confused about whether to have an inner forearm tattoo or an outer forearm tattoo. Some of the most popular ideas that tattoo artists will give you are – the American flag, koi fish, dragon, tree, rose, geometric, wolf, phoenix, lion and even a sleeve.
People get confused about whether they should have a tattoo on the hairy forearm or not. Here we have picked up 50 coolest forearm tattoos designs that will suit all types of forearms and will be liked by both males and females. Here are 100+ unique forearm tattoo designs for guys –
Forearm Flower Tattoos
1. This bee tattoo design is more elaborated on the forearm of this beautiful lady than the previous bee tattoo you saw here.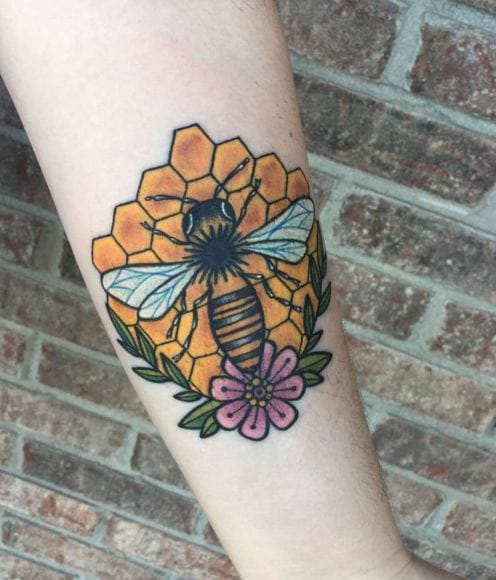 ---
2. If you became a father or mother recently then I am sure you will adore this tattoo design on forearm.

---
3. This butterfly tattoo design will suit all genders as it is not just a beautiful butterfly but in fact a meaningful tattoo on the struggle.

---
4. This bee tattoo design might not be in best shape but it could be improved and made better. I guess it will suit female tattoo lovers more than male tattoo lovers.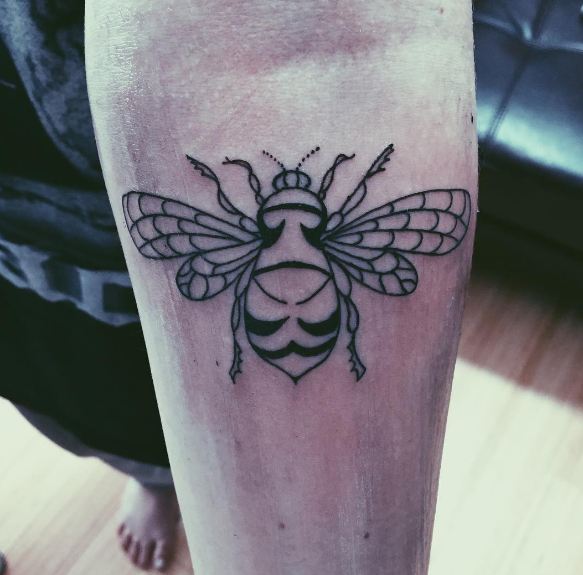 ---
5. Forearm is the best place to have couple tattoos or best friends tattoos because you can easily show them to the world.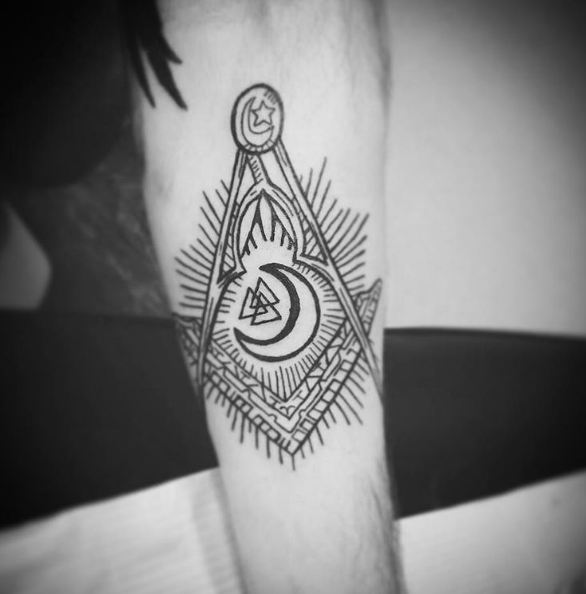 ---
Religious Forearm Tattoos
6. I do not understand the meaning of this tattoo design but I think it has some religious roots and probably that is why it is inked on the forearm.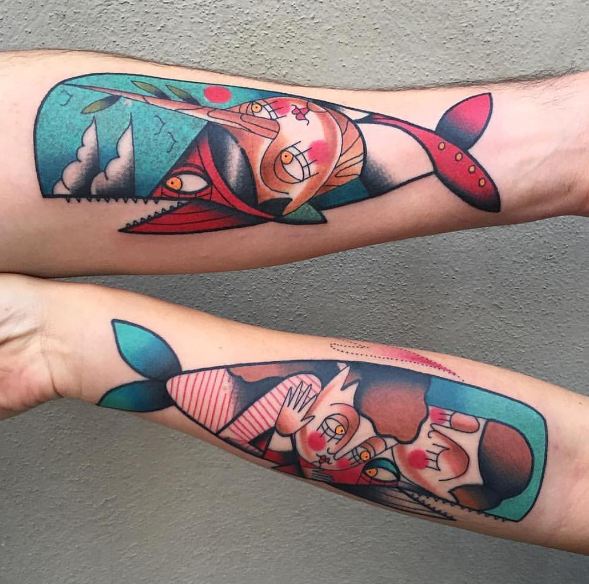 ---
7. Even though forearm provide a large space for tattoos but it doesn't mean you can have only large size tattoos. Small forearm tattoos like this also looks beautiful.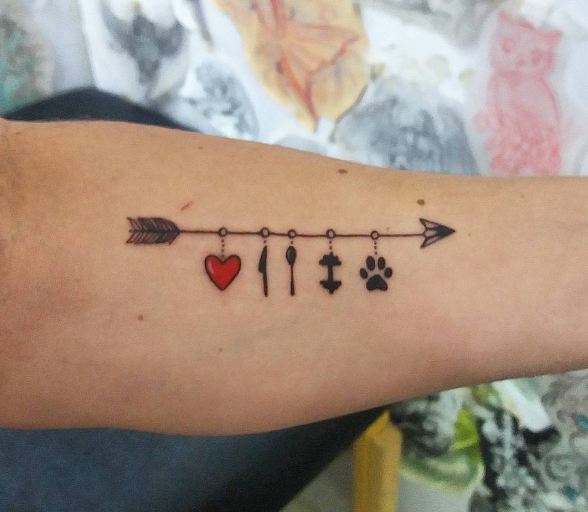 ---
8. Feather and bird tattoos are among my favourite tattoo design and the curves of forearm make such tattoos even more beautiful.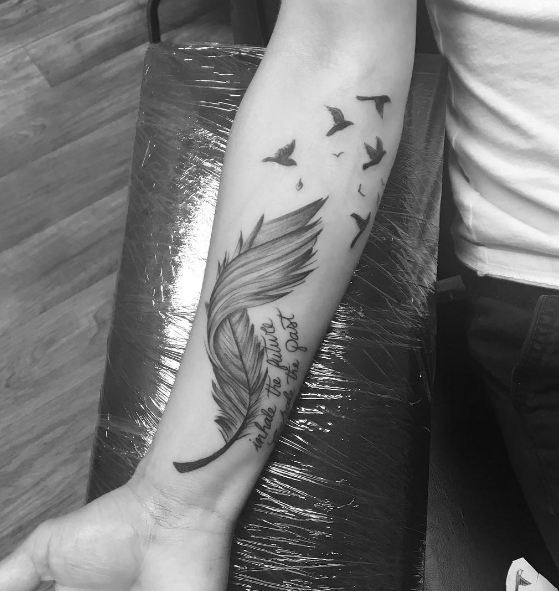 ---
9. Greek tattoos are not new among tattoo lovers and forearm is probably the second best place to have them.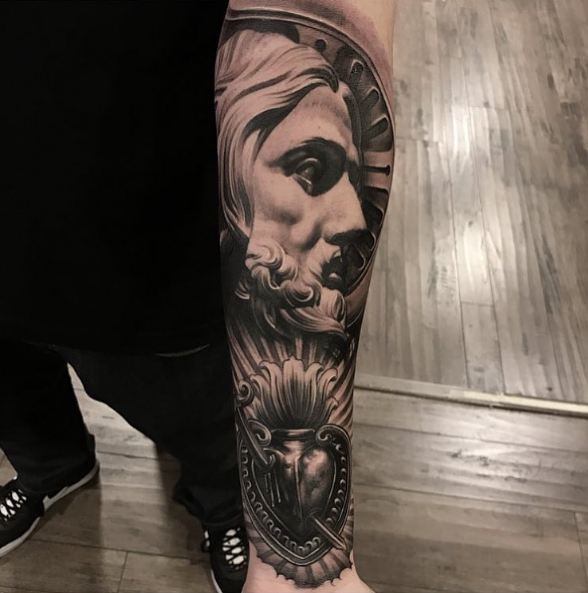 ---
10. Most people think that flower tattoo design does not suit boys but here this guy is proving it wrong. I would suggest you to follow these forearm workouts for better muscle and physique.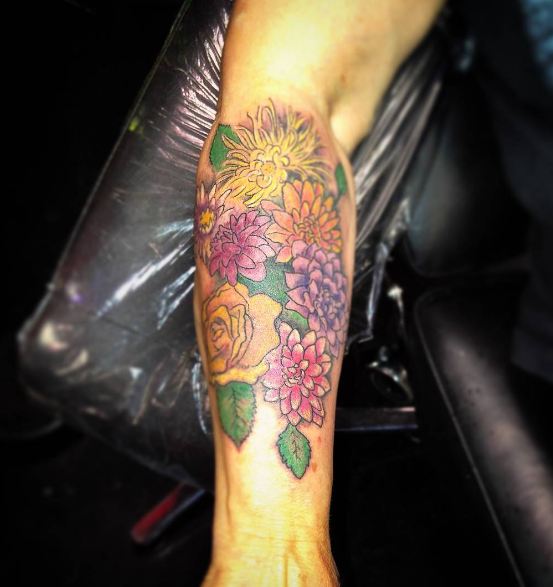 ---
Forearm Tattoos For Women
11. Usually arrow tattoo designs are simple and small but here is a detailed arrow tattoo on the forearm of this boy.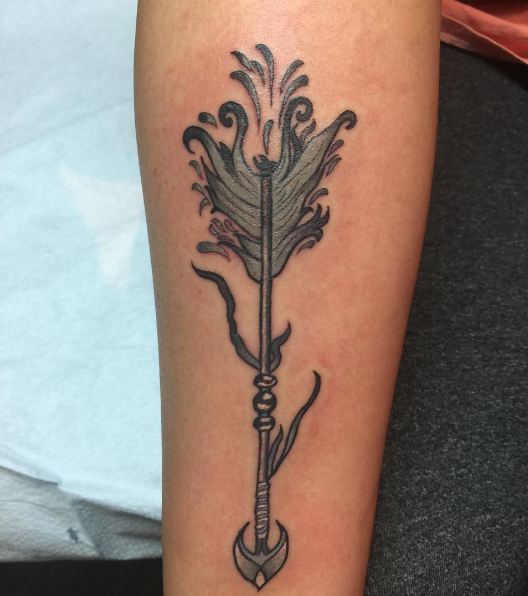 ---
12. Arm band tattoo designs are usually preferred on upper arm or on shoulder but you can have them on forearm too.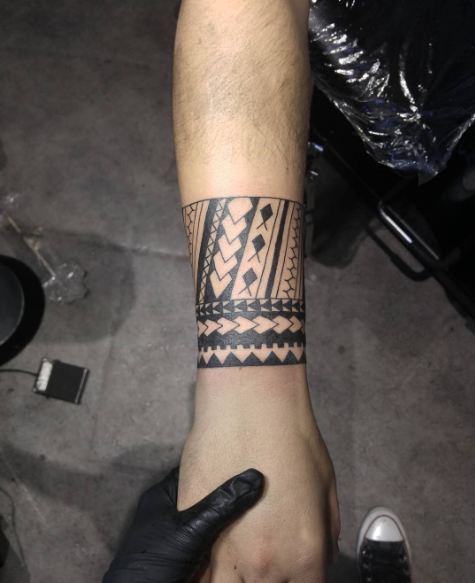 ---
13. You can have memorial tattoos on any part of body but if you want to show it to the world then forearm is best place.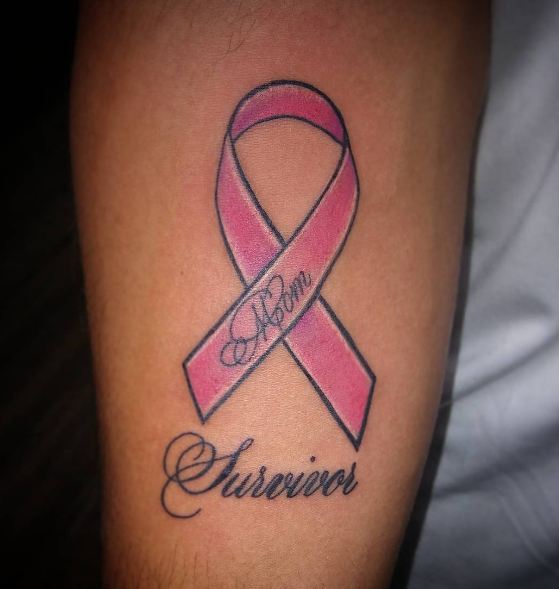 ---
14. This cat tattoo design on forearm could be improved and made better. They should have chosen Siamese cat to match it up with the Ancient Egypt fashion.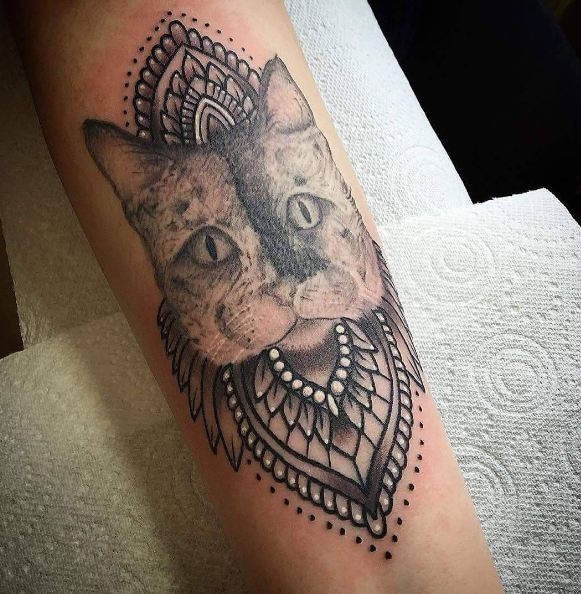 ---
15. Compass tattoo designs are rarely chosen. They are popular among navy soldiers and here is one beautiful design for you.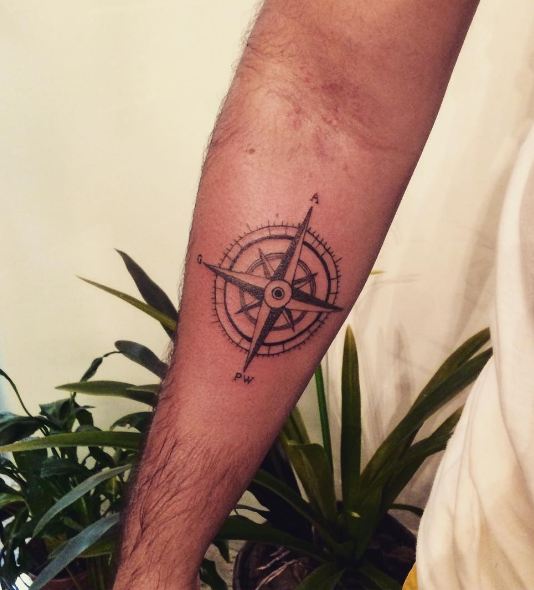 ---
Forearm Cross Tattoos
16. This cross tattoo design is looking beautiful due to the beads attached to it elegantly.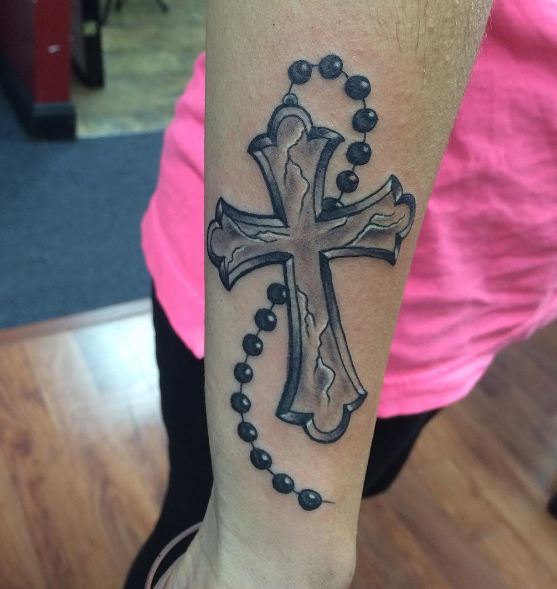 ---
17. I do not understand why this dagger tattoo design have an eye on it but overall it I s a cool looking forearm tattoo.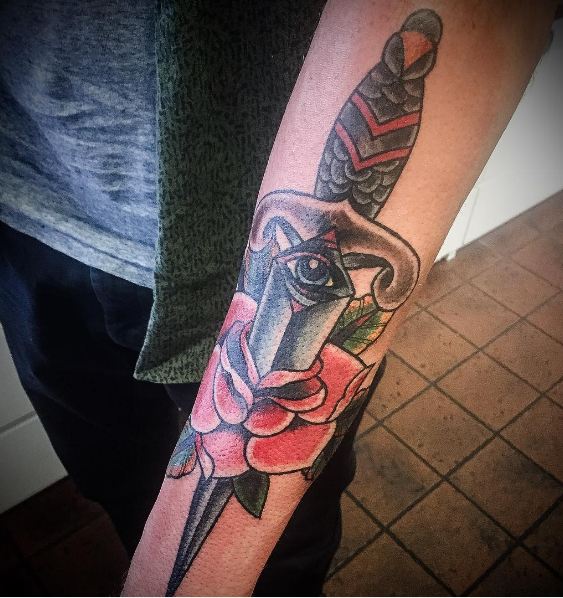 ---
18. If you like marine life then you can have fish tattoo design and here is one in Yin Yang tattoo style.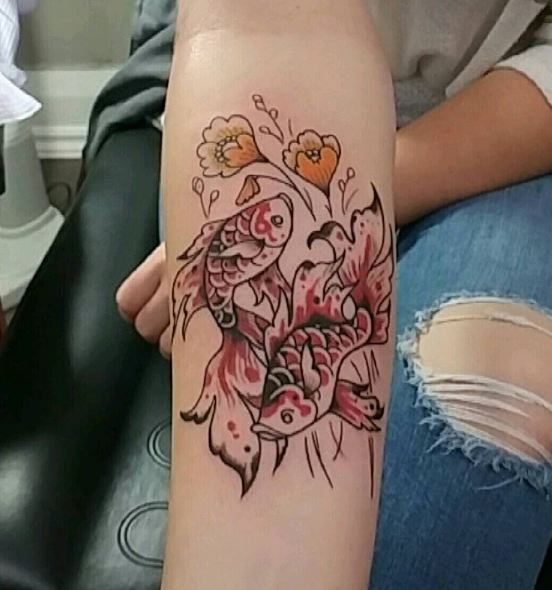 ---
19. The positioning and placement of a forearm tattoo can really make the tattoo look awesome or ugly. For example, this ordinary looking name tattoo is made awesome due to its placement.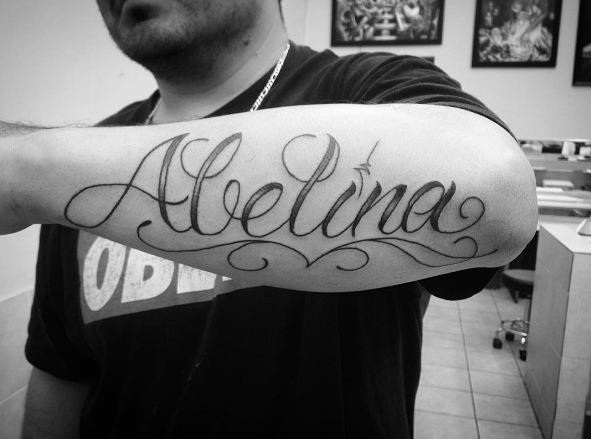 ---
20. I liked this superhero tattoo design due to the cute LEGO joker who is hiding behind Harley Quinn. Also, the polygon design makes it even more attractive.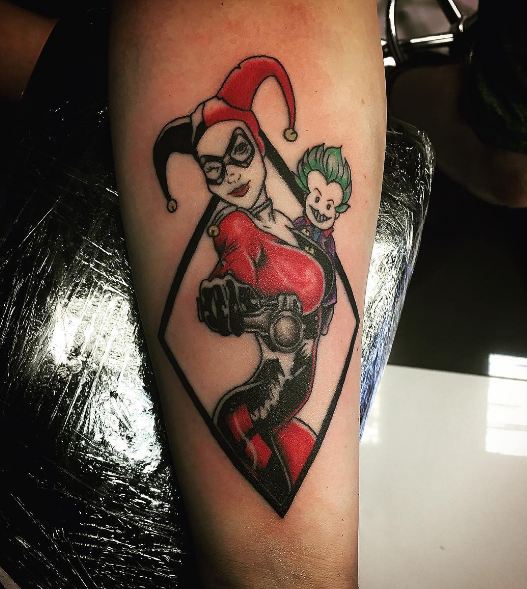 ---
Forearm Name Tattoos
21. I really like tattoos that are made using geometrical symbols and signs. Here is a beautiful unicorn tattoo on forearm made by geometrical figures.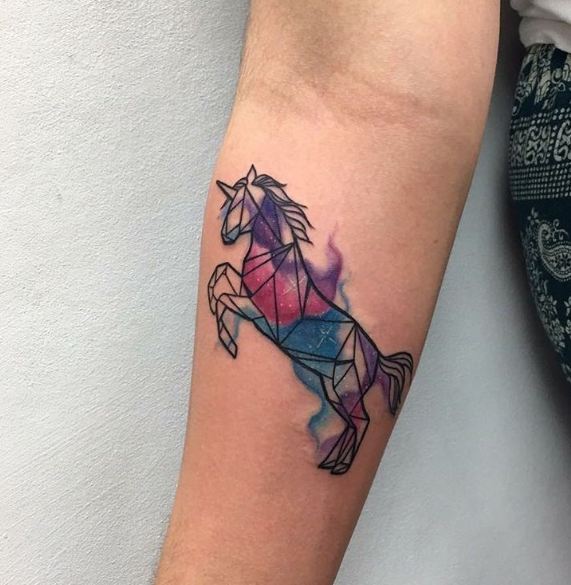 ---
22. If you choose small tattoo design for forearm then I would suggest you to either choose a heart tattoo design or an arrow tattoos.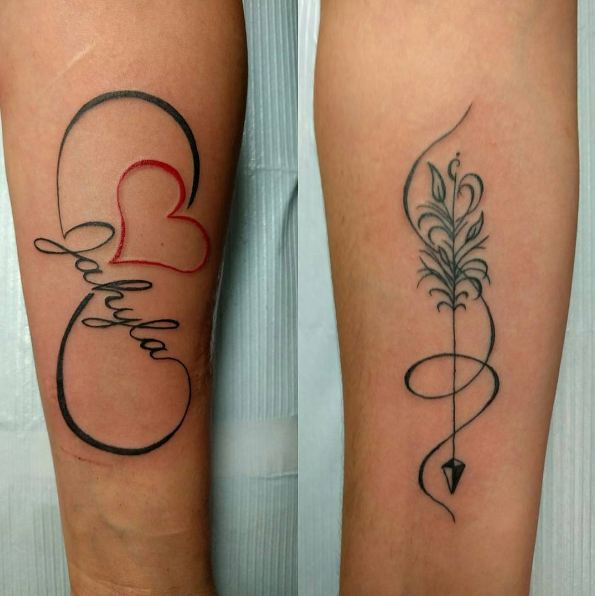 ---
23. This is not a dagger tattoo design but a knife tattoo design and you should have it only if you are in your twenties.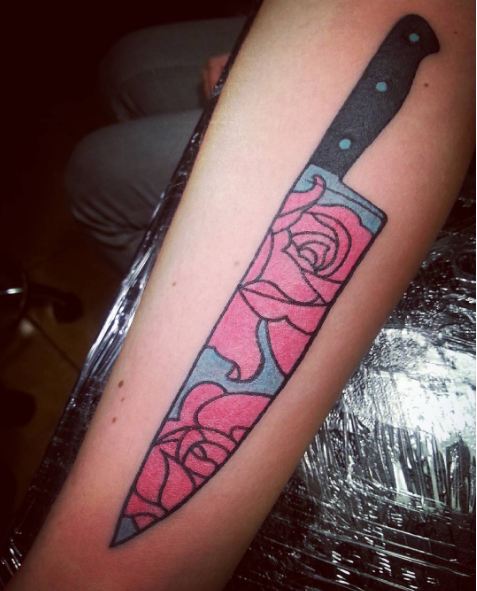 ---
24. It may look like another ordinary lead tattoo design but if you look closer you will see the beauty of this tattoo.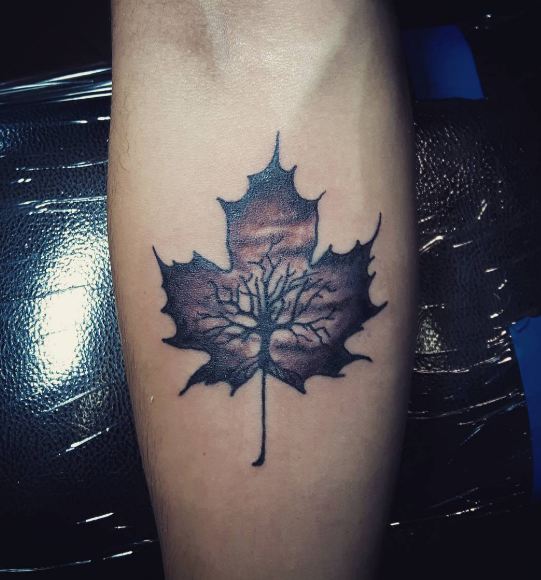 ---
25. This beautiful and colourful tattoo design seems to be inspired from rangoli designs from Indian culture.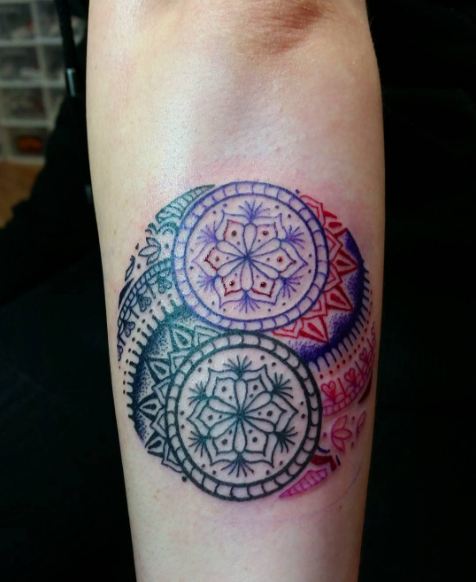 ---
Wolf Forearm Tattoo
26. The dagger tattoo design on the forearm of this guy is made even more beautiful by skull hand.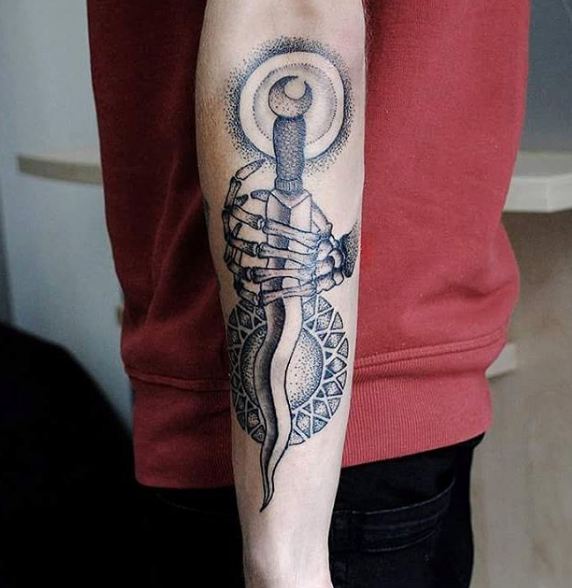 ---
27. Is this a sugar skull tattoo design or an owl tattoo or is it a devil tattoo. What do you think?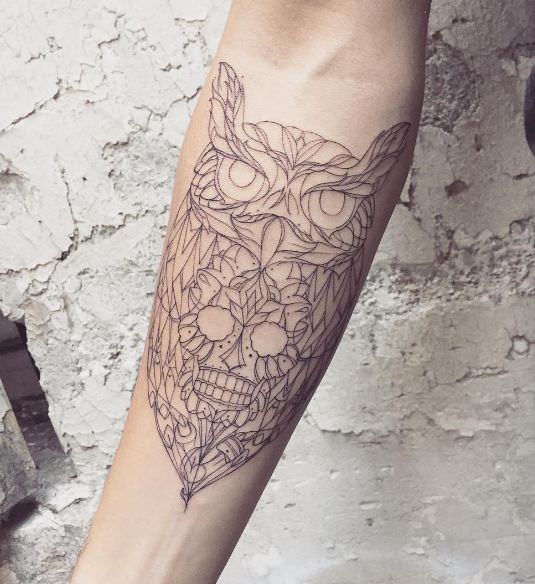 ---
28. Gramophone design will look old but it will still look impressive. Here take a look yourself.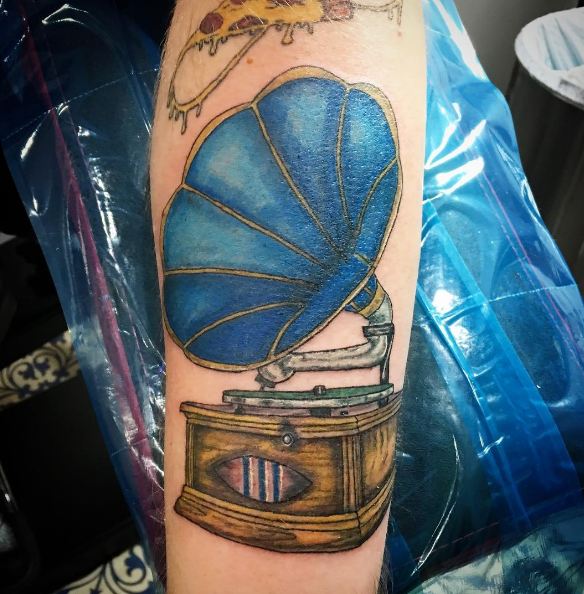 ---
29. This Skull tattoo design might look offensive to some but overall I think it is a cool representation of modern world.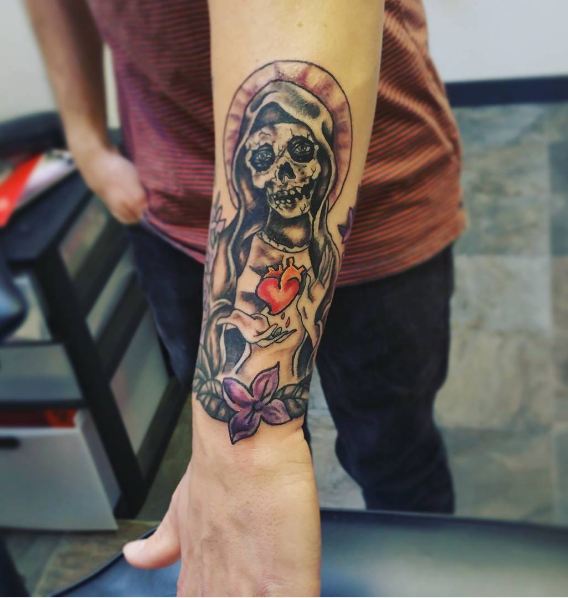 ---
30. Instead of mixing up the nail with the skull I would have modified with a Viking sword design and it will look awesome.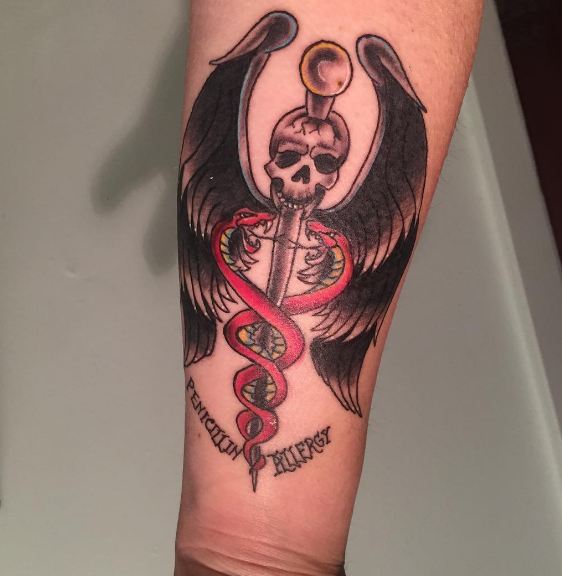 ---
Forearm Cover up Tattoos
31. You can also try cluster of stars on your forearm. You can form them in a specific constellation or a random style like this.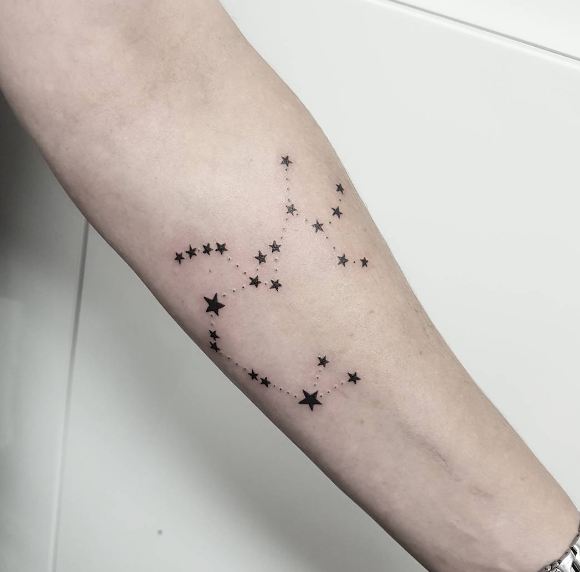 ---
32. This amazing wolf tattoo design will be hard to make but if carried out perfectly it will be one of the best tattoos of your life.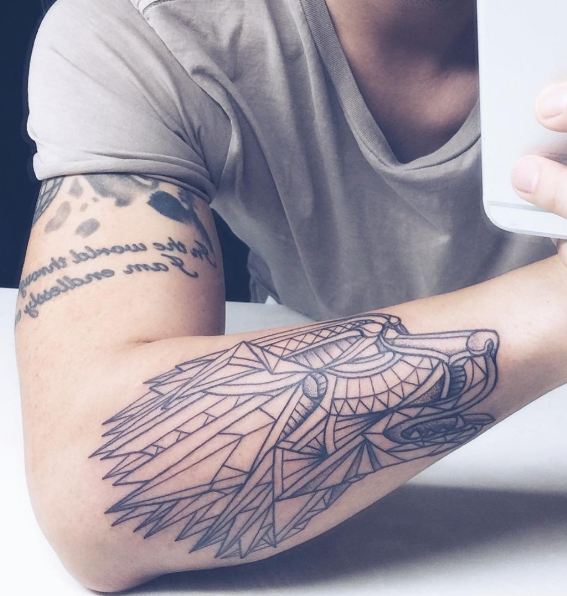 ---
33. If you want a cover up tattoo on your forearm then this design might suit you as it covers up most of the portion of forearm.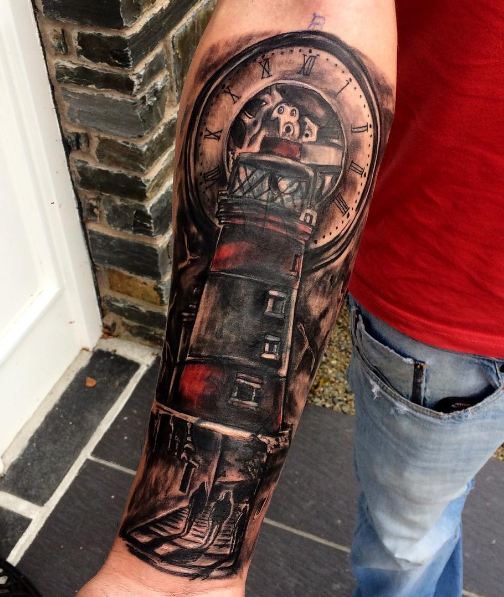 ---
34. Due to the design of this tattoo I will not recommend it to people with thin forearm as it might cause pain to them.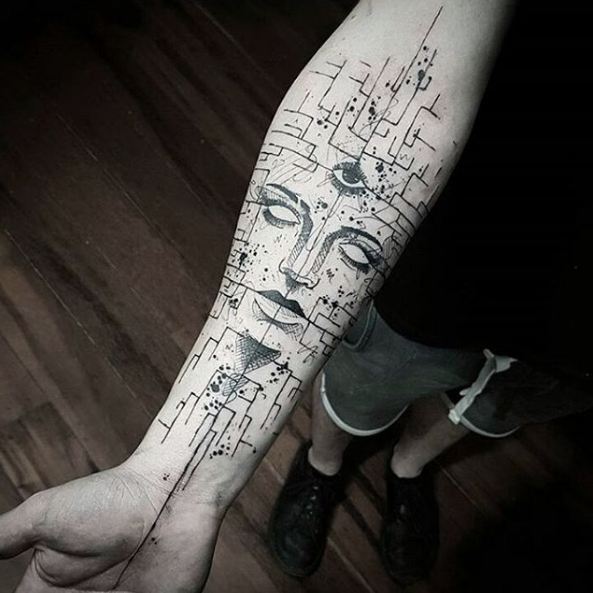 ---
35. If you are looking for temporary inner forearm tattoo design then here is one cool idea for you.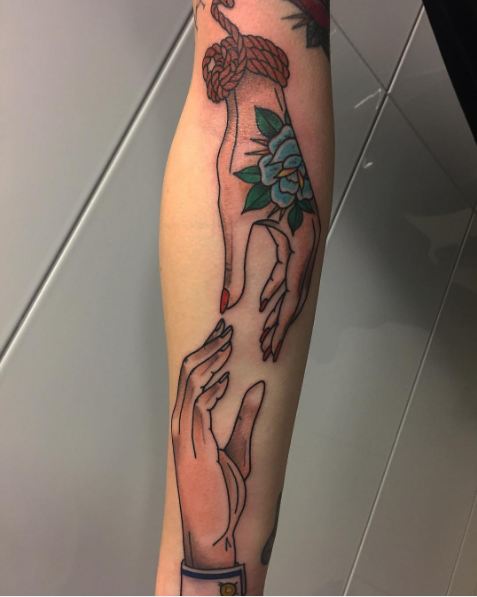 ---
Inner Forearm Tattoo
36. This niddle tattoo design will not suit outer forearm as much as inner forearm.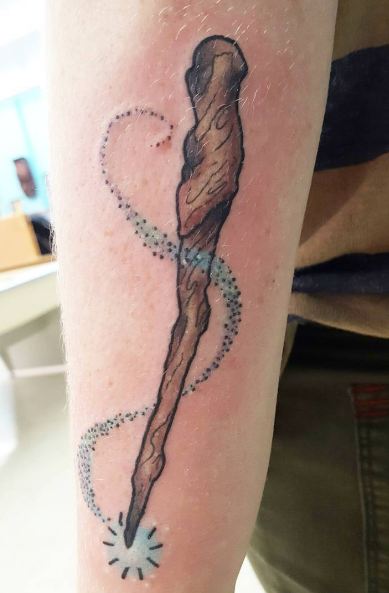 ---
37. This tree tattoo design on forearm could be decorated with quotes or strong words like 'Believe' or 'Faith'.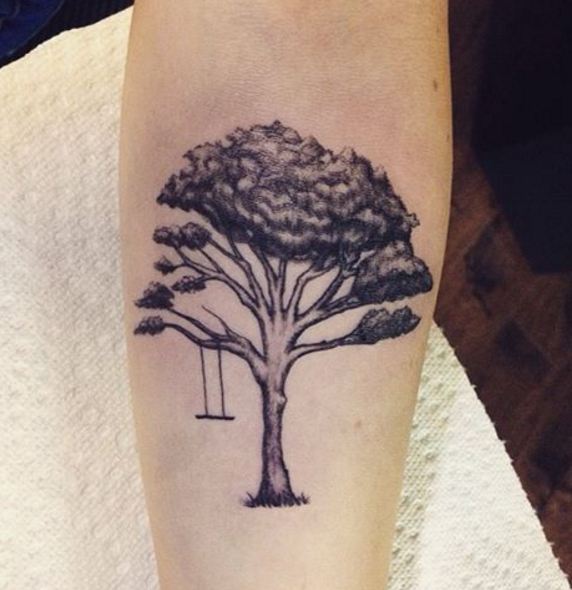 ---
38. Many people have claimed that tattoos on forearm had an adverse effect on their veins. If you are in doubt then I would suggest you pick up a simple forearm tattoo design like this.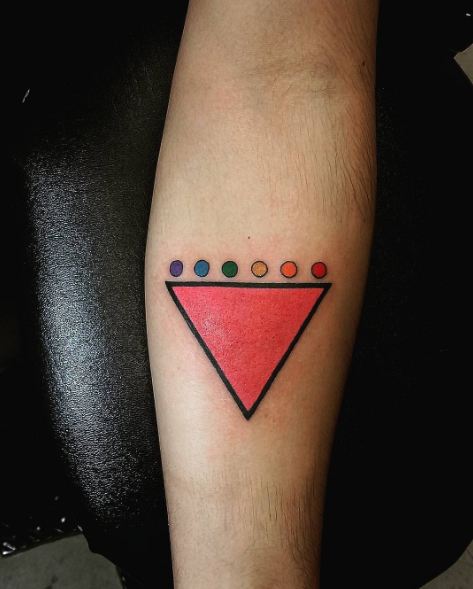 ---
39. I bet that you will be as surprised and impressed with this beautiful wolf tattoo on forearm as me.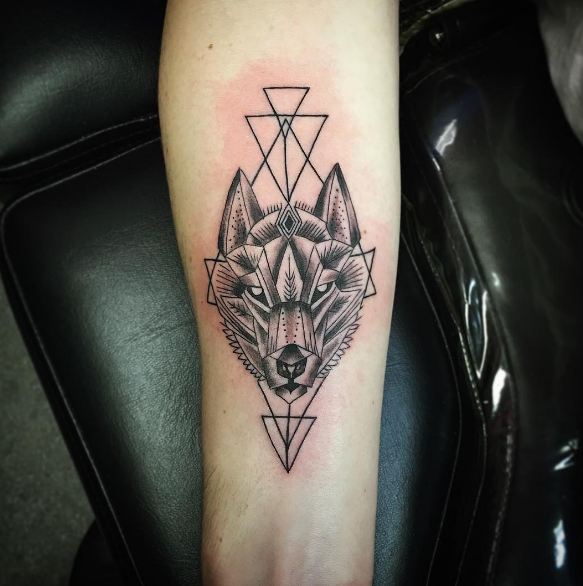 ---
40. Although I won't suggest having tattoos on both forearm but if you want a unique idea then here is one for both forearms.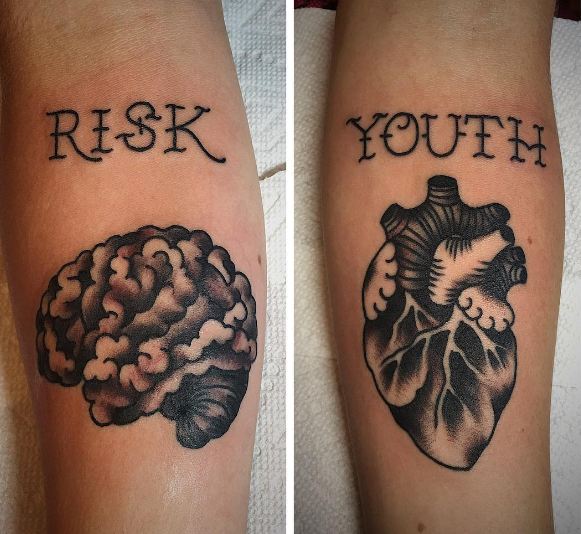 ---
Celtic Forearm Tattoos
41. Such trippy tattoo designs on forearm would look better on skinny guys and skinny girls.(=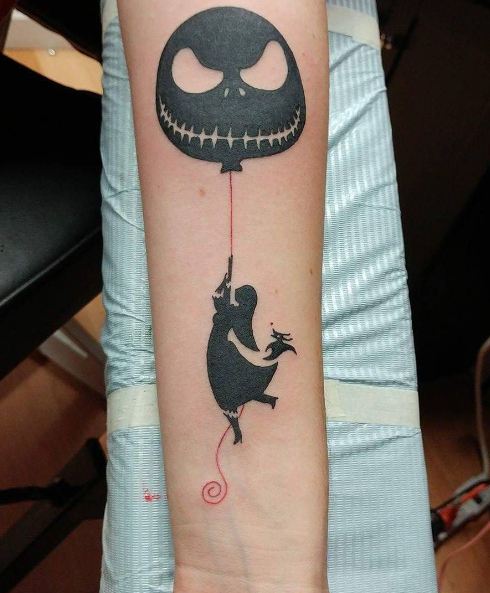 ---
42. The hand of the baby in this beautiful forearm tattoo makes it weird but it can be improved and made better.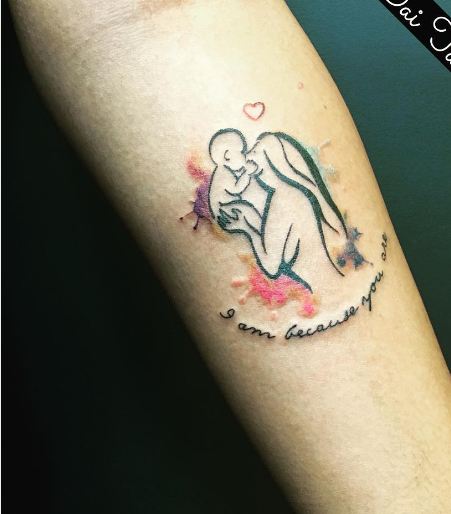 ---
43. If you have hairy arms then try this simple and adorable tattoo design of cat and moon. It will suit a hairy arm.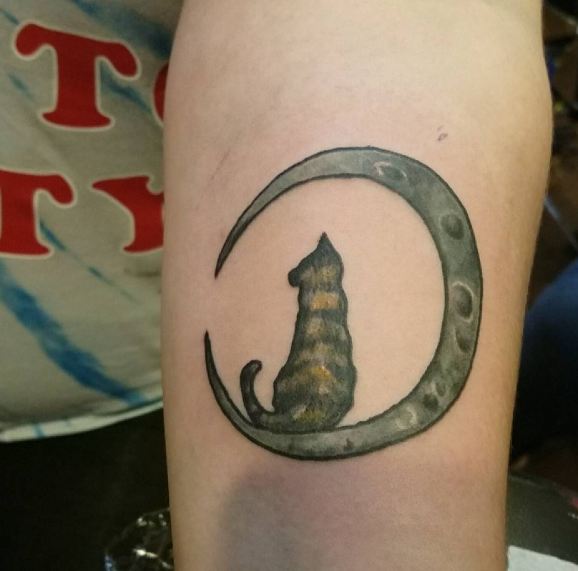 ---
44. This is one killer forearm tattoo design of a native American Indian. If you have Native American roots then you will love it.

---
45. Two unique forearm tattoo ideas would be the mandala tattoos or the military tattoos.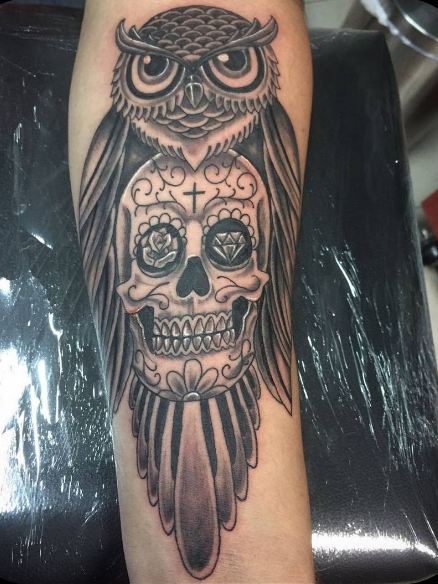 ---
Forearm Band Tattoos
46. Most guys prefer to have full sleeve tattoo designs but I would opt for a half sleeve. Here is how a full sleeve tattoo would look like.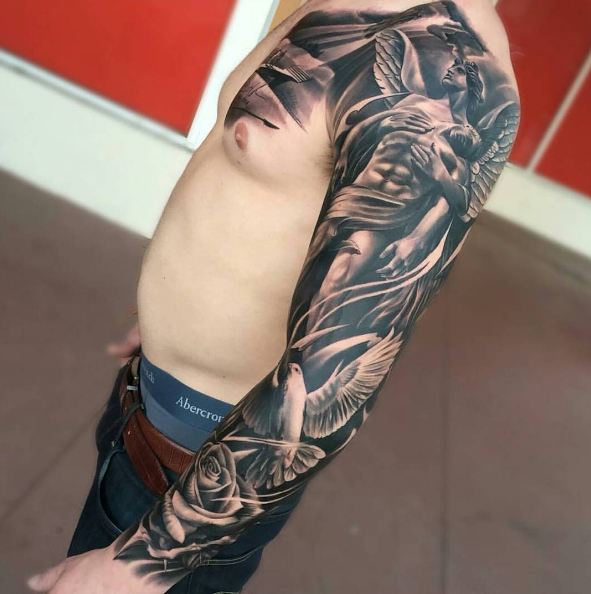 ---
47. Quote tattoos are hard to choose not just because of the message that they might send but also because of their length. Here is a long quote tattoo on the forearm that is hard to read.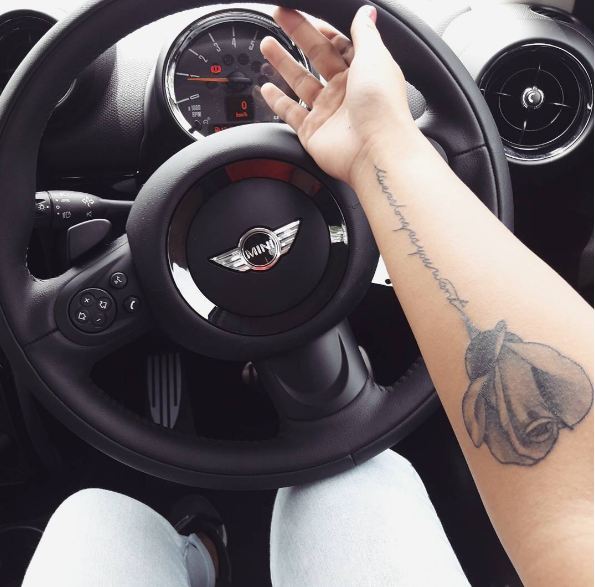 ---
48. You can browse sites like Tumblr and Deviantart for beautiful drawings and you can use them as your tattoo design. Some can turn out as beautiful as this.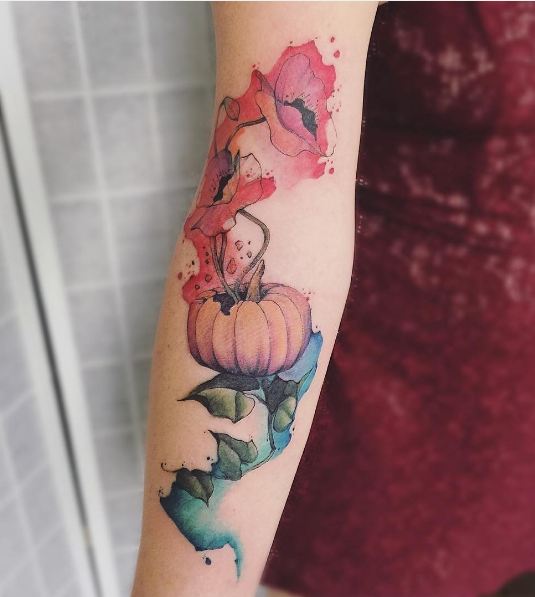 ---
49. If you want to have any animal tattoo on your forearm then you can choose this pattern.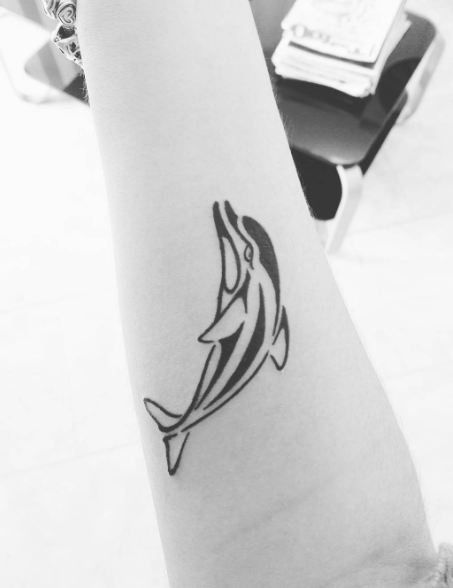 ---
50. It is really tough to get 3D tattoo design on forearm due to its shape but you still can give a try.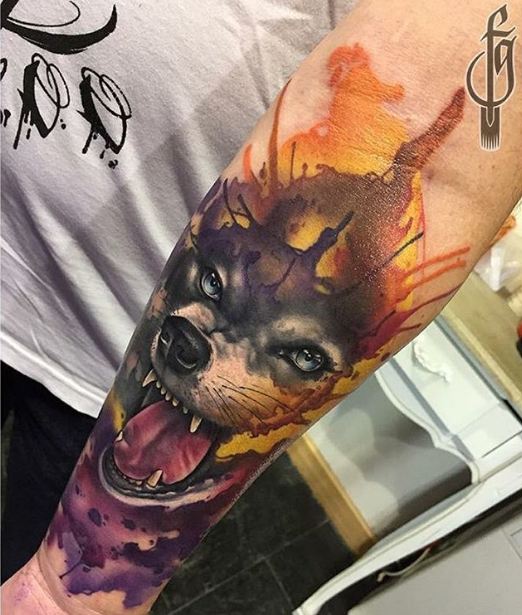 ---
Outer Forearm Tattoo Ideas
51. Many people wish to have a forearm dragon tattoo. You can not have a huge dragon tattoo on forearm. So another option is to try sea horse or sea dragon tattoo like this.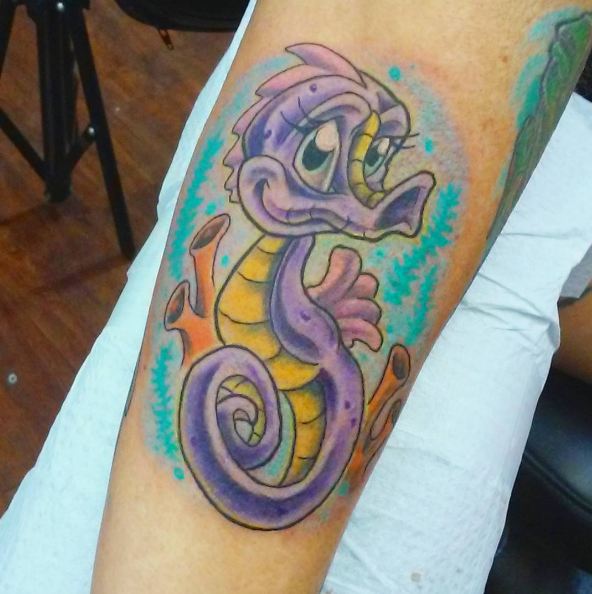 ---
52. If you love music then forearm is the best place to get a music tattoo. This guy has a music note tattoo on his forearm.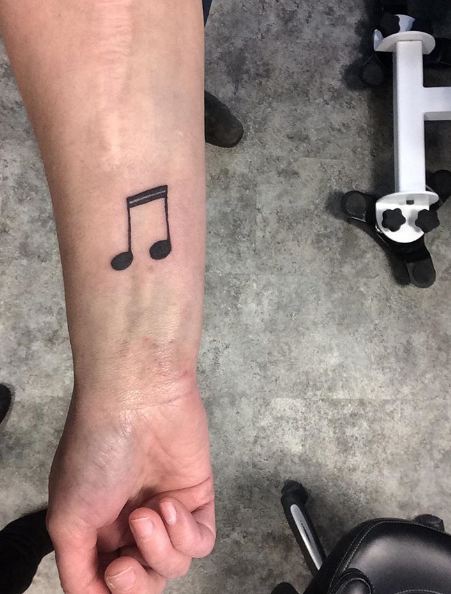 ---
53. You can also have religious symbols tattooed on forearm. Here this guy got inked with the sacred symbol of Sikhism on his forearm.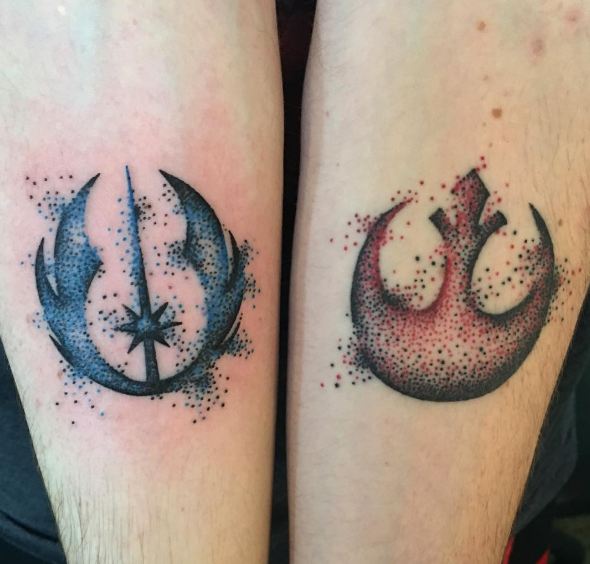 ---
54. In my opinion tiny tattoos on forearm are excellent option for both male and female. Look at this small forearm tattoo. isn't it the cutest?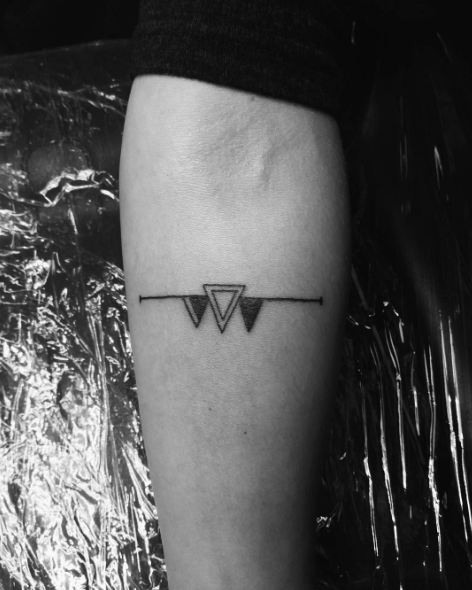 ---