Sisterhood tattoos
41. Anchor tattoo design is very popular among relationship tattoos because they signifies the strength of a relationship.(Easy drawing tattoos)

---
42. Along with the swinging sisters tattoo design you can add the date of birth of your sister and it will make the tattoo even more personalized.

---
43. Even though I would not recommend such long quote in sister tattoos but then again words cannot define the importance of a relationship.

---
44. This beautiful flower tattoo design is inked in the style of a constellation but I am not able to identify the constellation.

---
45. You can also try a matching wave tattoo design which will signify that one should flow with life.

---
46. This is an adorable sister tattoo design in which two sisters are shown using a toy telephone.

---
47. You should keep in mind that sister tattoos need not to be meaningful to the word. They can be secret just among sisters.

---
48. One interesting sister tattoo design is the cross fingers design that shows that a sister too can be a best friend.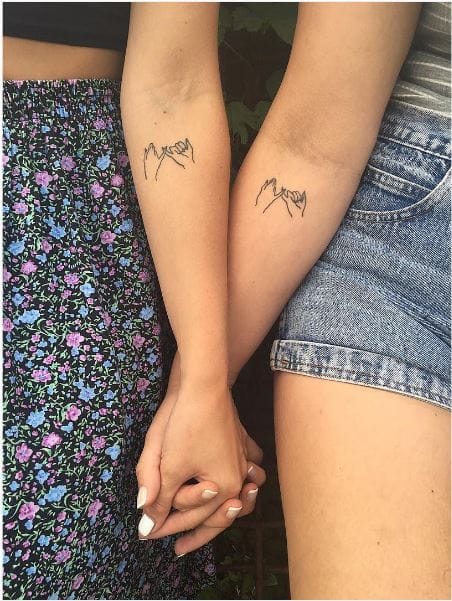 ---
49. This is a perfect matching rose tattoo design shared by three sisters.

---
50. Here is another interesting sister tattoo design that will only be meaningful among the sisters themselves.

---
Which sister tattoos design would you recommend to your sibling and why?