Small Anchor Tattoos
21. Most men and women love to have quote with their tattoos. Anchor tattoos with quotes will look meaningful only if the quote is inspirational and gives positivity like this.(Small forearm tattoos)

---
22. The Alignment of anchor tattoos can also give lot of suggestion and hints. For example this anchor tattoo on inner bicep of this guy is aligned downward suggesting that it could not handle the immense biceps of him.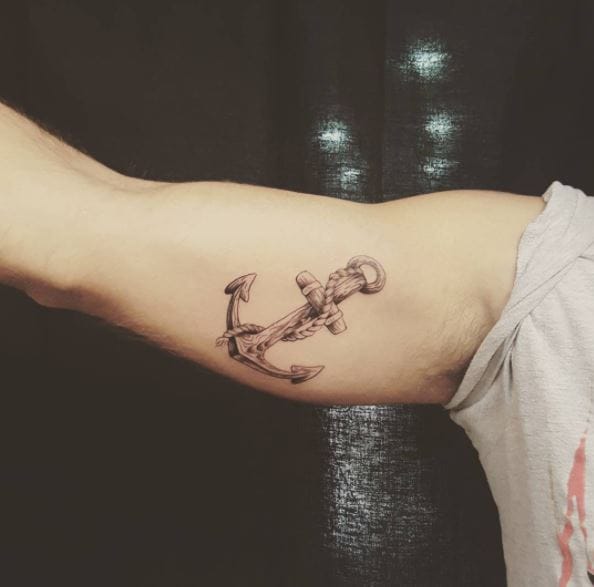 ---
23. Anchor tattoos are also great choices for best friends. If you have best friend the try a matching anchor tattoo with him along with name initials.

---
24. Here is a smart tattoo idea – Try a boat anchor tattoo where the boat is tattooed on the upper shoulder and the anchor tattoo is inked near the elbow or wrist.

---
25. You can also try temporary anchor tattoos. I would suggest you to try pastel color anchor tattoos or watercolour anchor tattoos like this.

---
26. A cool anchor tattoo idea would be to add a rope to your anchor but in the shape of your name initial. Such as this Man got the rope inked in the shape of 'S'. Probably he is Superman.

---
27. Many artists like to modify the anchor into crossed anchor tattoos. All one have to do is make the anchor look like a cross. Here the artist made a celtic crossed anchor tattoo.

---
28. Anchor tattoos can be really good memorial tattoos. Add the name and date to your anchor tattoo and it would suggest that your deceased loved one will always be in your heart.

---
29. The Marine Corps emblem which features an eagle globe and anchor is one of the most popular tattoo design among sailors. It would look amazing on full back.

---
30. If you have kids then a wonderful family anchor tattoo idea would be to get their date of birth tattooed near the anchor suggesting that they are your two strong pillars.

---