Cool Tattoos to Draw
31. If you ever opt for an umbrella tattoo then be sure that you add a watercolour rain design over it. Look at this tattoo – isn't it pretty?(Simple skull tattoos)

---
32. I am not sure what the artist was trying to do here. Probably he wanted to show a rat face on dragon body but ended up with a sea horse Skelton topped with a rat face.

---
33. I always admire tree tattoos because they have a unique appeal that attracts every viewer toward itself. In this design the artist beautiful inked a green tree and even showed rain drops.

---
34. Instead of opting for traditional dreamcatcher tattoos you can play with the design a little bit. Here is a modified dreamcatcher tattoo with quote on the thigh of this lady.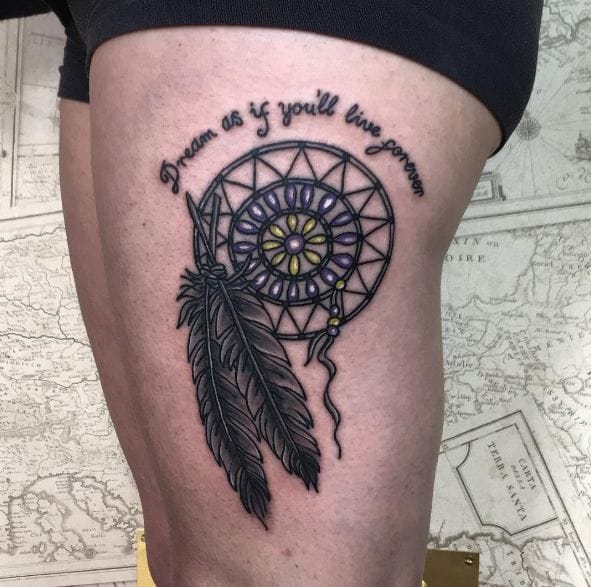 ---
35. It is not necessary to have large size tattoos attract people. Small tattoos have their own charm. Here is a cool tiny lightning bolt tattoo on the forearm of this woman.

---
36. If you ever wished to have a cool toe tattoo then I would highly recommend you to try an eye tattoo on it. The eye tattoo perfectly blends with the shape and size of toe and gives a realistic look.

---
37. A behind the ear tattoo would look cool and impressive if it is tried along the length of the ear. Here is an interesting tattoo design of a leaf that perfectly matches with the thickness of ear.

---
38. The beauty of this colourful flower tattoo design is increased by the addition of a unique tribal flower tattoo design in the background.

---
39. Most girls opt for colourful butterfly tattoos but they are not much realistic. If you want a butterfly tattoo then opt for a realistic design like this.

---
40. When people opt for owl tattoos they mostly try a sitting owl tattoo but here is a unique design where the owl is shown spreading wings just like an eagle.

---