It is common among with people with mutual understanding to have similar tattoos. In fact many best friends love to have a tattoo design that is meaningful and special for both of them. It doesn't matter if your best friend is a girl or boy but if you have a special bond with a special someone then it would be cool idea to ink the relationship. Here we have selected 50 coolest best friend tattoos for men and women –
Best Friend Tattoos Ideas And Designs
1. The most common Best Friend tattoo design is probably the word itself. Choose a beautiful font in right size and you will love your Best Friends Tattoo design.(Roses tattoos for guys)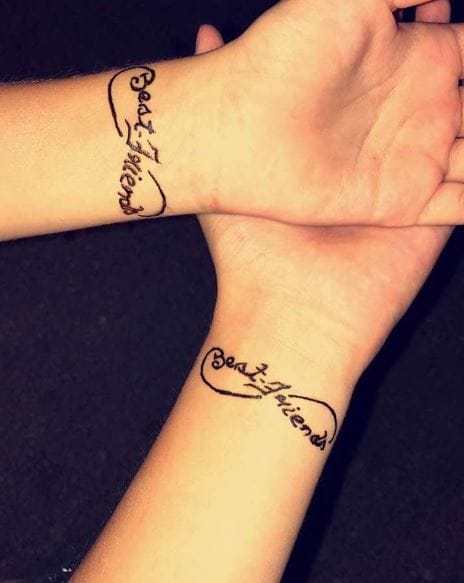 ---
2. You can choose a unique sign or symbol that is meaningful to you both and you can have it on any part of your body but in my opinion you should have it on visible part of body.

---
3. Sun and Moon tattoos are popular among couples but if your friendship is strong enough and is beyond limitations then you should go for it.

---
4. Fight and issues are important part of every relationship. So you should pick a tattoo that would help you survive tough times of your friendship and help you understand the beauty of your friendship with your best friend.

---
5. Another popular choice for best friend tattoo is a broken symbol. You can have one half of any symbol inked on your body and the other half would be inked on your best friend. The tattoo would be complete when you join the half tattoos inked separately on your body parts.

---
6. You can also have matching tattoos and the most perfect choice would be a heart tattoo design.

---
7. For girls I would suggest to have matching flower tattoo designs on their shoulder or wrist just like this.

---
8. You can also divide the word BEST FRIENDS in two separate tattoos as shown in this picture.

---
9. I think there would be no perfect best friend tattoo then a subtle, tiny matching tattoo design on wrist or neck.

---
10. You can also ink your favourite quote for your best friend on your forearm or wrist.

---