3D tattoos are popular among tattoo lovers since the last two decades but you don't see them often on people. This is because 3D tattoos can only be tattooed by experienced artist otherwise there is a huge risk of your 3D going wrong. The internet is full of 3D tattoo fails and therefore people are confused and scared on whether to get a 3D tattoo or not. If you find an experienced tattoo artist in your locality then I would advise you to try 3D tattoo design at least once in your life. Here we picked 50 best 3D tattoo designs that will suit both men and women-
3D Tattoos For Men
1. Most 3D tattoos are inspired by Biomechanical tattoos. Here is a realistic biomechanical tattoo design that is leaving a long lasting impression.(Awesome cross tattoos for guys)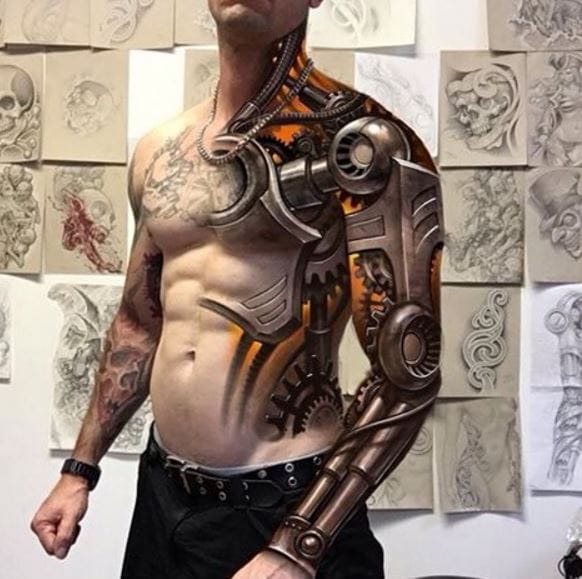 ---
2. 3D portrait tattoos are very popular. Instead of opting a person I would highly suggest you to pick up 3D portrait of your pet (Dog or cat).

---
3. The artist cleverly used the curves of the inner bicep of this boy to ink a beautiful eye tattoo design. You can see the reflection of a distant building in the eyes too.

---
4. Girls can opt for 3D flower tattoos but don't pick up an easy design. I would recommend you to go for a 3D rose tattoo or a three D chrysanthemum tattoo design like this.

---
5. You can also opt for a 3D landscape tattoo design and it doesn't have to be big. Here is a small 3D tattoo design on the forearm of this girl.

---
6. If you wish to have a 3D eye tattoo design then I would recommend you to either try eyes of an Owl or eye of the tiger.

---
7. Large size 3D tattoos look more impressive then small size 3D tattoos. Here is a large size 3D skull tattoo design on the full back of this guy.

---
8. If you opt for human anatomy tattoos or human body part tattoos then my better suggestion would be to try a 3D praying hands tattoo design on chest.

---
9. 3D tattoos give you an option to get portrait tattoos of your favourite celebrity. Here is a 3D portrait tattoo of Jennifer lopez.

---
10. Double exposure tattoos in 3D styles can be pulled off only by experienced tattoo artists. Here is a double exposure tattoo in 3D style that shows a baby and a skull.

---