Skull Tattoos For Women
31. Women can wear skull tattoo as necklace as well. Here is a beautiful skull tattoo design that is inked around the neck of this girl like a necklace.(Bad tattoos for face)

---
32. If you wish to try skull tattoo as a sleeve tattoo then I would suggest you to try king skull tattoo with crown and clock.

---
33. Usually tattoo artist do not show eye in skull tattoos but I recommend you to try a skull tattoo with eye as it will look unique.

---
34. Why try just black and grey skull tattoos when you can have really cool skull tattoos like this? It looks like skull of nebula from guardians of the Galaxy movies.

---
35. An interesting skull tattoo idea for men would be to try a skull in a hoodie. Make it even more mysterious and attractive by adding playing cards to it.

---
36. This traditional skull tattoo design looks funny at first but it surely is a cool idea for temporary time.

---
37. If you want to have a unique skull tattoo design then try a skull tattoo with moustache just like this. It looks like a pirate skull tattoo.

---
38. You can show a warrior skull tattoo by adding some weapon to it. For example this artist added an edgy weapon to it.

---
39. Sites like tumblr, pinterest and deviantart are full of skull tattoo ideas. My favourite among them are the designs that shows galaxy as well.

---
40. The background of this skull tattoo could have been modified a bit to give it more realistic look but still overall it is a beautiful tattoo.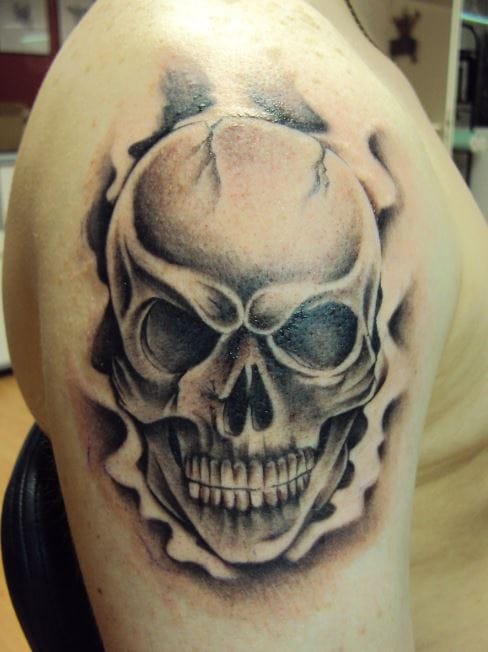 ---