Lion Roaring Tattoos
41. If you are opting for detailed lion tattoo then have them on larger body part like chest or back instead of wrist. But if it is chosen as a pet memorial tattoo (Saudi Kids have lions as pets) then forearm is also a good place for it.

---
42. A Lion does not need a crown to prove he is the king of jungle. But still lion tattoos with crowns would look cool.

---
43. If you wish to have lion tattoos with flowers then please have colourful flowers around the head of lion or otherwise it will ruin the look of whole tattoo.

---
44. Many people love to add geometrical shapes and symbols to their lion tattoos. You too can try geometrical symbols around your lion tattoos.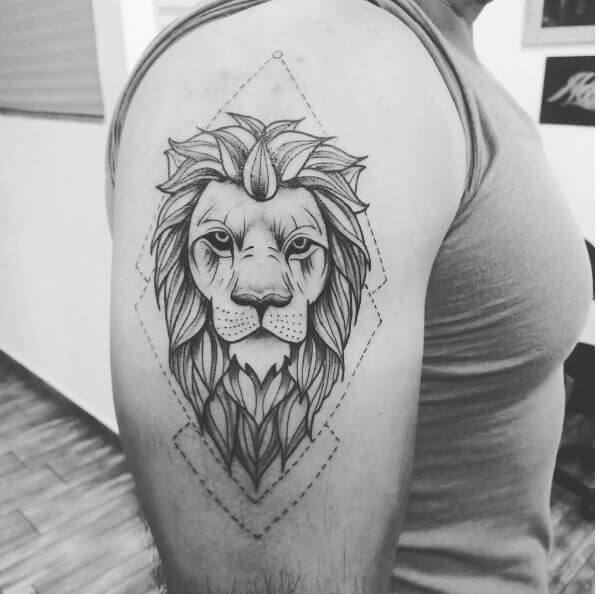 ---
45. Have you ever tried mountain lion tattoos? They do not have beard like the African lion but still they are fierce like them.

---
46. In the Caribbean culture people like to have Rastafarian lion tattoos because they think it is lucky and cool.

---
47. Many people to add religious symbols to their lion tattoos thus indicated that they are very protective to their religion. Here is a religious lion tattoo with cross.

---
48. I admire minimal lion tattoos. Here is a simple lion tattoo on the side rib of this girl which Is too hard to move eye from.

---
49. This lion tattoo does not look realistic. It looks more like a statue but still it is very impressive small lion tattoo.

---
50. I think tribal animal tattoos are way better than normal animal tattoo. See this tribal lion tattoo on chest of this man and you will agree.

---
Which lion tattoos from the above photo gallery you liked the most?